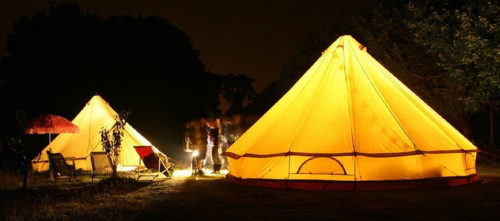 Vanaf dit jaar kan je ook al een tent vooraf huren! In deze formule kan je een basistent nemen die je zelf kan inkleden of de ruimte indelen naar eigen believen. Ze is gelegen op een afgelegen stukje terrein, waar er voldoende stilte en rust is.
Tenten hebben een maximumcapaciteit van 6 personen.
Wat moet je zelf meenemen?
A partir de cette année vous pouvez louer une tente! Cette formule vous permet d'avoir une tente basique que vous pouvez emménager comme vous le souhaitez. Cette zone est située sur un terrain isolé, au calme.
Les tentes ont une capacité de 6 personnes max.
From this year on, we'll provide tents you can rent. This is the basic type you can arrange yourselves. The tents will be placed on a completely new area that's a bit further away to enjoy all the peace and silence. 
These tents have a maximum capacity of 6 people.
What Do You Need To Bring Along Yourselves?​